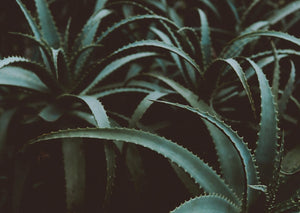 Trisana Aloe Vera gel powder
Regular price
Sale price
$36.00
---
We are so excited to be one of the only companies in North America carrying pure Aloe Vera powder for horses! 
Aloe Vera has been used for gastric health with great success in horses for many years. Recently a study gave aloe vera powder to horses with a grade 2 or greater gastric lesion confirmed with a gastric scope. 56% of horses showed improvement after 28 days of supplementation, and another 17% showed healed lesions (Franklin et al, 2017)!
Additionally, there is abundant anecdotal evidence by equine and veterinary professionals that aloe gel powder can be used to effectively soothe and heal inflammation and irritation in the gastrointestinal tract caused by a myriad of factors. TriSana Nutrition Aloe Vera powder is the perfect natural remedy for dealing with a large range of stress induced internal disorders, as well some skin problems and joint issues. 
It is particularly recommended for horses that are prone to travel or exercise stress, ulcers, sensitive stomach, and other digestive upsets. It also makes a great addition for competition and exercise recovery, to increase stamina and performance.
This powder is carefully seperated from the inner fillet of the aloe leaf. Pulp and fiber are both removed, and then the aloe gel left is further concentrated by using gentle low temperature to remove the water. This results in a pure product, without any additional additives or preservatives needed. An important distinction to be made here is that this is just the aloe fillet of the aloe vera plant, and has been harvested independently of the aloe latex. This not only means that the aloe powder has a more mild taste (great for those picky eaters!), but it also has a larger safety margin. The latex has severe laxative properties and can cause serious gastric health complications if used too often. When ingesting aloe, the gel is the safest part of the plant, which is why we have made sure our human grade aloe powder ONLY contains the gel fragment. 
Don't be alarmed if this seems a like a really small amount! TriSana Nutrition Aloe Powder is 200x concentrated - that means all the water has been removed from the gel harvested from the plant itself. In other words, to get back to how you would take it directly from the plant, you would add 199 parts of water to 1 part of aloe powder!
This amount lasts an average horse 68 days if fed 2x a day!
Dose:
Less than 1000lb: 1/2 tsp
Greater than 1000lb: 3/4 tsp
References:
J. Bush, R. vandenBoom, S. Franklin, Comparison of aloe vera and omeprazole in the treatment of equine gastric ulcer syndrome, Equine Vet. J, (50)1, 34-40 (2017)