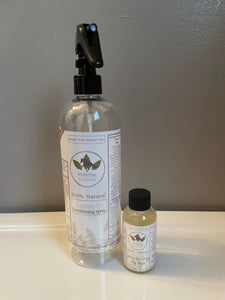 Purvida Horse Health-Conditioning Spray
Regular price
Sale price
$25.99
---
As the largest and most absorbent organ in your horse's body, what you put on your horse's skin matters. Our Original conditioning spray is 100% natural and gentle on even the most sensitive skin. Specially formulated to remove all traces of dirt, while hydrating, repelling insects, killing fungus and bacteria, promoting hair growth, and soothing skin--it's the only grooming spray you'll need in your brush box. Made with absolutely no harsh chemicals or perfumes. Simply curry comb, spray your conditioning spray over your horse's entire body, mane, and tail, and then brush it through with your brush of choice!

Key Benefits: 
Cleans, conditions, & de-tangles without causing breakage, leaving hair softer, shinier, & more manageable 
Naturally antifungal and antibacterial ingredients are effective at promoting a healthy coat, but gentle on even the most sensitive skin 
Natural insect repelling abilities for a safer way to repel flies, mosquitoes, gnats, and biting insects for both of you 
Cuts grooming time in half by repelling all traces of dust, dirt, and stains
Versatile grooming solution: available in ready-to-use spray or in our economical Refill Bottle of concentrate.  
Coconut Oil: helps to clean, nurture, and moisturize skin. It allows you to effortlessly brush away dirt & dandruff, keeping your horses coat clean and nourished. 
Vegetable Glycerin: Is a naturally hypoallergenic and antibacterial agent providing deep moisturizing benefits to the skin while preventing skin irritations.


Witch Hazel: Naturally tones skin and speeds up the healing process of minor scrapes. It is also a natural astringent and provides relief from damage caused by sun exposure, reduces swelling from insect bites, and also soothes any rubbed or chaffed skin.   

Cedarwood Essential Oil:  is an amazing antifungal and antibacterial, helping to heal rain rot, scratches, mud fever, etc. It also makes an effective natural insect repellant. 


Sweet Orange Essential Oil: is used for its calming, soothing effect on the mind & body, helping your horse stay relaxed & focused.